Tunnel Washer: Save money by the gallon while increasing your quality
Tunnel Washer from Ellis! With the world's first sequential tunnel washing system, Ellis is not afraid to break new ground. Working with the 360, these wash, press, and conveyor technologies work seamlessly together, offering the most efficient washing process.
Differentiation is what separates good from great. The Ellis 360 Tunnel Washer is different from any other tunnel washing process. The Ellis 360 offers unique innovation, operational savings, a 20-year proven track record, a better finish product, and environmental friendliness all in one package.
Unlike other tunnels on the market, the Ellis 360 processes each batch discretely allowing the system to process textiles in any order without the bath water comingling, eliminating the redeposition soils or fugitive dyes in the carryover from one batch to another. This also allows you to wash textiles in any order to feed your finishing areas in a smooth even flow process.
This is the world's first sequential tunnel washing system. It was designed to be safe, efficient and green. Utilizing only 0.5 gallons of water or less on light soil and 0.75 gallons per pound on heavy soil, this will give a quality wash while saving you money.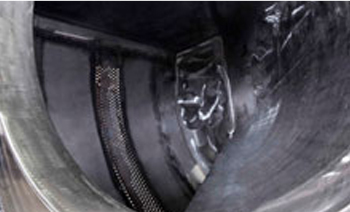 Tunnel Washer – No Tangling
A 79" diameter cylinder with scoop design picks up the entire load, providing the highest quality wash on the market, without tangling the textiles.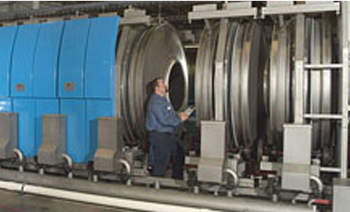 Flexible and Safe
Unique only to the Ellis SWS 360 is the ability to separate the chambers for quick and easy maintenance access, avoiding the need to enter the tunnel and satisfying OSHA confined space regulations.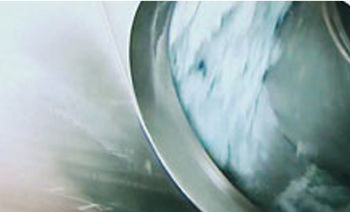 Efficiency and Versatility
Energy utilization is only of value if the system produces the desired result, a great finish product. The Ellis 360 is capable of reducing your utility costs and versatile enough to have a gentle cycle next to a high mechanical action process without disrupting workflow, while producing a superior finish product.

Additional Features
Loads processed separately for improved workflow
Sanitizing feature cleans piping, chambers and other surfaces to prevent bacteria growth
Easy integration with the Ellis IntelliNet Control System to monitor any component of the machine
Made in the U.S. from 304 stainless steel
Chambers easily added or removed for changes in capacity
"Batch Match" feature allows proportionate delivery of water for a load size