Get the best by removing the worst
Side loading VOC Washer/Extractor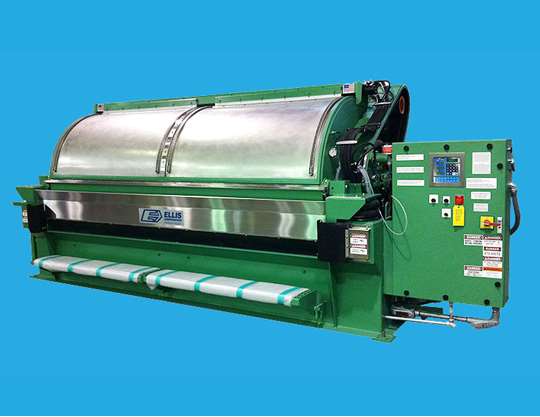 Processing textiles containing Volatile Organic Compounds can be an arduous, time-consuming process. The Ellis VOC Stripper/Washer Extractor is designed to handle this process safely and swiftly.
The Ellis VOC Stripping Washer Extractor injects steam into its wash chamber to suspend the VOCs from the textiles in the first phase. It then evacuates, condenses, and isolates the VOC's in a liquid state for safe removal in the Second Phase.
Once VOCs are stripped, the machine moves to the washing and extracting portion, removing soils in a wet wash process.
Once the cycle is complete, the door opens and textiles are ready for further processing.
Smart design
This machine identifies when the VOC content is stripped from each load, reducing cycle times and improving productivity.
Safety first
The 90-degree tilt to unload all work together to keep your operations working safely and efficiently.
Two Phases
VOCs are removed in first phase before shifting to a normal washer extractor in the second phase of the process, providing a cleaner end result.

Additional Features
Able to operate as a free standing washer extractor as well
Performing two functions in same machines reduces VOC emissions to the operators
Intrinsically safe motors and controls
Pressure relief panel
Non-Pressurized chamber
Single step loading
Gravity assisted load
90 degree tilt to unload