Direct Contact (Dc) Water Heater
Hot water and fuel efficiency. All in one machine.
Direct contact water heater.
Compact design equals Saved Space
Not only will this Direct Contact Water Heater be more efficient in dispensing hot water, it will allow for more space on your floor. Our direct contact heaters take up far less space than a boiler system and also weigh less.
Eco-friendly and cost efficient
We help you see a 30% to 40% energy savings. That not only means less fuel used but lower exhaust stack emissions also.
Cutting Steps Out of the Process
Our heater can use hard water up to 20 grains as it does not require water that has been treated, cutting out unnecessary steps.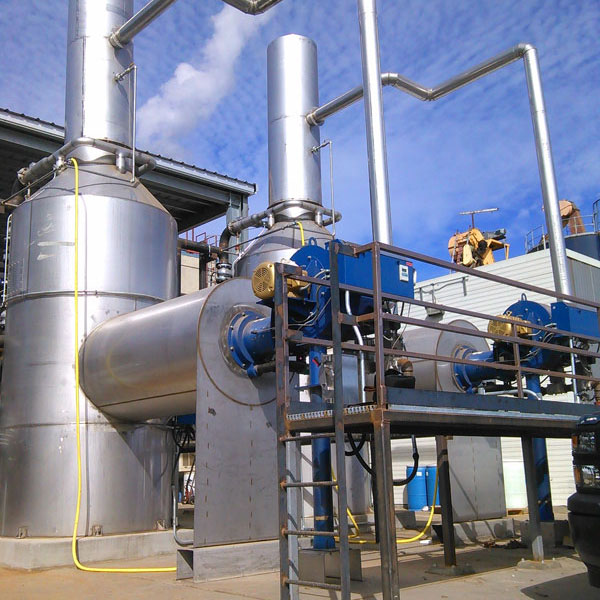 Our Direct Contact Water Heater (DCWH) simplifies the heating process to one step. Unlike a typical boiler system, Ludell's DCWH will produce 180 degree water up to 1,000 GPM instantly. That means on demand with no more waiting.
How do we do this? Unlike a boiler, Ludell's Direct Contact Water Heater introduces energy from a burner directly to cold water, giving the process more than 99% efficiency. While boiler efficiency is usually between 70% and 80%, and you wait for hot water, Ludell has hot water ready at all times.
Each heater is divided into an upper zone with a cold-water spray nozzle, a middle zone with stainless steel transfer packing media and a lower combustion zone where heat from the burner comes into contact with the water droplets to achieve your desired hot water temperature.
This machine works quickly and efficiently, spanning from 750,000 BTU/hour to 54 million BTU/hour, and will let you cruise compared to a boiler system.
Product Features
Extended burner combustion for improved combustion, lower emissions and no water quenching of flame
Industrial burner from Powerflame specifically manufactured for heater and boiler applications, not an over burner
Powerflame burner made stainless steel construction on inner and outer blast tube, diffuser and blower wheel
Cold water, jacketed burner combustion chamber to reduce hot spots in the burner connection
Water-cooled inverted U-channel support frame to support internal heat transfer packing material
Constructed to ASME pressure vessel standards to ensure long life
Rigid cone top supports more weight
Temperature safety switch to prevent overheating
UL listed heater control panel and UL listed burner
Integral burner and combustion air fan design for simple control linkage
Patented tangential fire burner to create vortex turbulence to ensure maximum efficiency
Single burner design for ease of operation and reduced maintenance
Twin tower heaters and burners as a back up or for additional heating capacity
Industrial caliber water heater level controls utilized vs. toilet bowl float technology
Burner turndown ration of 10:1 on standard equipment
Non proprietary system components for easy service and maintenance