Mini Dc Water Heater
Small size, Big results
MINI DIRECT CONTACT WATER HEATER
Hot Water on Demand
There's no warm-up period needed, giving you the hot water you require in an instant.
Big Savings
With higher efficiency and lower emissions, your company will see immediate savings.
Built Tough
Corrosion-resistant stainless steel vessel construction and high alloy material for the industrial type burner ensures longevity, allowing a five-year limited guarantee.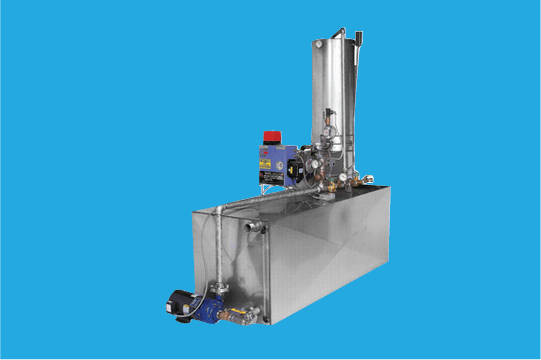 Sometimes, big things come in small packages. That's the case with Ludell's Mini Ultra Efficient Water Heater, which boasts 99.8% efficiency as a direct contact water heater.
While most standard water heaters with indirect heat end up losing energy, Ludell's Mini Ultra Efficient Water Heater will evenly distribute water with a spray nozzle located above the heat transfer area, thereby letting the water absorb the heat from the ascending hot gases.
This machine features a non-pressured vessel and stainless steel construction. It meets all USDA Sanitation and Cleaning Standards, and its level of efficiency will give your company a 30% to 40% savings in fuel.
Product Features
Costs less than a boiler with the same BTU output
Can use water that hasn't been chemically treated
Uses hard water up to 20 grains hardness vs. more expensive soft water
Easier and less expensive to install than a boiler due to uncomplicated design
Takes up less floor space due to compact design
Licensed fireman operator not required