EQUALIZATION TANKS
Smooth operations are what Equalization Storage Tanks can provide your wastewater treatment process. EQ tanks are used in many industrial applications to reduce the peaks and flows in wastewater discharges from the production area as well as the pollutant loadings. Wastewater treatment systems perform best when the flow rate and pollutant loadings are maintained at relatively consistent levels. Quite often during sanitation periods or equipment maintenance breakdown, high concentrations of pollutants or high volumes of water are sent to the wastewater treatment system. In many applications, the wastewater operator is part of the maintenance or sanitation crew and doesn't have to watch the wastewater treatment system during repairs and clean up. Poor chemical treatment and operations could occur leading to non-compliance incidents.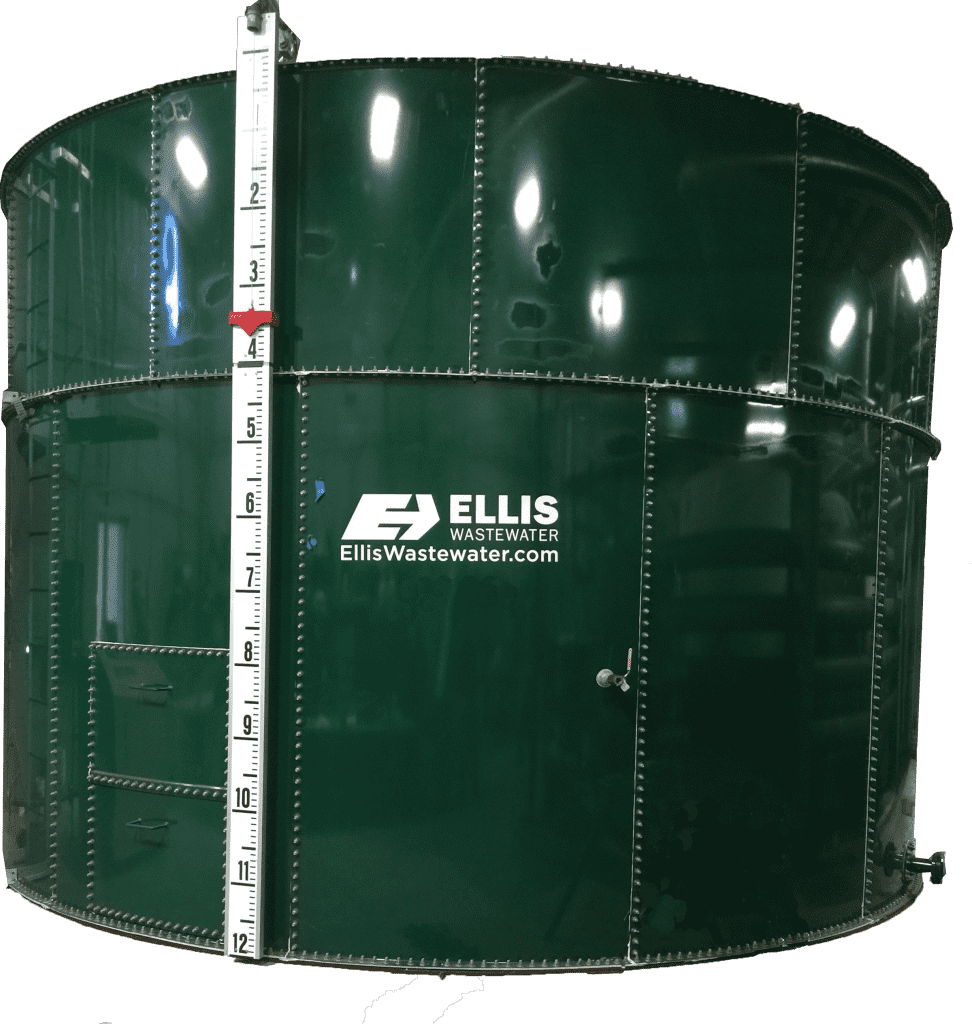 EQUALIZATION TANKS: HOW THEY WORK
Equalization of wastewater is a vital part of treatment process management systems and for the minimization and control of inconsistencies in wastewater. The equalization of contaminants and flow are engineered to deliver a constant rate of flow and contaminants to the treatment process. Larger equalization tanks provide a solution that reduces the impact of batch dumps and unwanted discharges. Aeration Blowers provide energy to maximize the suspension of solids in the wastewater to ensure a homogenized waste stream flows into the treatment system. This equipment has been proven to be more energy-efficient and has lower maintenance than mechanical mixing.
Benefits of Equalization Tanks Include:
Substantial reduction in chemical costs associated with pH fluctuations or where coagulants and flocculants are required for solids removal.
Smaller downstream treatment components. Downstream treatment components do not have to be sized to handle instantaneous flow peaks.
Ease of operations. EQ substantially reduces process adjustments required in day-to-day operations.
STANDARD EQUALIZATION TANKS
Bolt Together Steel Construction
Silica/Zirconium Liquid Seal prior to coating for additional corrosion protection prior to interior/exterior coating applications
Factory Powder Coated interior and exterior
Flat Bottom
Domed Top
Galvanized ladder with safety cage & lockable entry
Galvanized five foot perimeter guard rail on each side of the exterior ladder
Liquid Level Indicator for specified tank height
EQUALIZATION TANK OPTIONS
Stainless Steel Welded Equalization Tank
Aeration Mixing Systems with Aeration Blower, Stainless Steel Headers and Diffusers
Exterior Tank Side Level Indicator
STORAGE TANKS
There are many needs for additional storage tanks used in the wastewater treatment process including liquid sludge storage, recycled water storage, waste oils, and many more. These tanks are constructed of carbon steel, stainless steel, or plastic with flat or coned bottoms.
STORAGE TANK OPTIONS
Materials of Construction
Valving and Vents
Flat or Cone Bottoms
Open Top or Covered
Mechanical Mixing or Aeration Manifolds
Level Indication
Pumping Systems – Inlet or Outlet
Walkways, Ladders, or Stairs
NEED HELP CHOOSING AN EQUALIZATION TANK?
If you're looking for help with equalization and wastewater storage tanks for your business, contact our team of experts at Ellis Corporation. We have many years in the industry specializing in wastewater storage tanks and can help you figure out which option will be the best for you. What material you need, the type of pumping system, what shape bottom you need, and more factors will all need to be considered before you invest in an equalization and wastewater storage tank. For more information on what kind of tank is right for your needs, call us today. We look forward to working with you!