The emulsion breaking system has been engineered to deliver the best quality separation at the lowest Operating and Maintenance costs. Other technologies can be expensive, noisy, energy consumptive, and do not always work. The EBS works efficiently by maximizing the use of gravity.
Oil Water Separators (OWS) are an effective technology in most oil-water separation applications. However, there are some applications which require chemical conditioning due to the oils being emulsified. Emulsification can be due to the addition of chemicals such as surfactants or excessive mechanical shearing through mixing or passing through pump impeller.
HOW OUR EMULSION BREAKING SYSTEM WORKS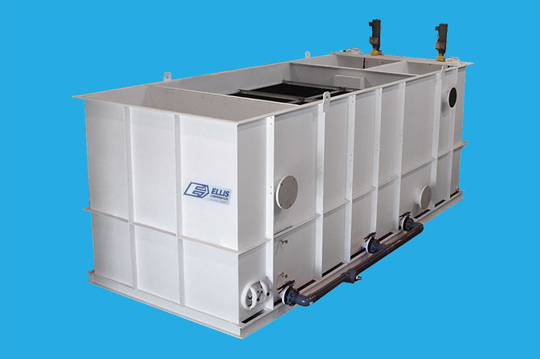 Separating emulsified oil from water can have different applications. Simple demulsification can be achieved by using a technique referred to as Acid-Cracking. By reducing the pH of the wastewater to a range between 2 and 4, the free oil will separate and rise to the surface of the oil water separator.
Ellis engineers have responded by designing the Emulsion Breaking System (EBS). The EBS system has two pH chemical reaction tanks (one acidic and one alkaline) to adjust the pH of the wastewater to be in the acid phase to release free oils to separate through the OWS section of the EBS. The acidic wastewater flows to the pH neutralization tank where caustic soda is added to raise the pH to be discharged within local effluent discharge limitations.
Designed to API 421 and 620 standards, Ellis engineers will work to select the best model and materials of construction to maximize oil separation.
Oil coalescing media packs are available in different materials to best suit the application needs of cost, wastewater temperature, corrosion resistance, and chemical compatibility.
The OWS System Design
The beauty of the OWS design lies within the simplicity. As shown in the figure below the feed enters the OWS on the left (for reference) and is immediately directed downward. The wastestream feed then flows upward through a media pack. Inside the pack the demulsified oil begins to coalesce and float upwards and over a baffle into an isolated oil collection chamber.
Discrete oil globules will rise due to buoyant forces to form an oil layer on top of the water. This makes them relatively easy to remove in an oil water separator (OWS). Free oil can be removed by gravity separation which is what the OWS is designed for. Removal is a function of wastewater flow conditions, differences in specific gravity, temperature, and the stability of the oil. Coarse oily solids with a specific gravity >1.0 will settle to the bottom of conical hopper of the OWS.
How can Ellis make oil droplets bigger without adding chemicals or additional heat inside the OWS? The answer is, again, simple: a specially designed Ellis media pack (below). The coalescing media material is usually made from oleophilic material that is assembled in a crisscross honeycomb fashion. As the oily feed travels through the pack, different flow paths collide, and the oil particles stick together and grow in size. Any heavy solids that are too dense to make this upward path and will inherently slide back down through the pack into the sludge chamber and removed from the bottom. Ellis offers coalescing media packs constructed of stainless steel and PVC. Conventional oil-water separators can only remove free oil. Stable emulsions and dissolved oil require additional treatment.
The Standard Emulsion Breaking System Features:
Standard Oil Water Separator with Two pH Adjustment Tanks and chemical mixers
Pre-Assembled at Factory Reducing On-Site Installation Time
3/16" Thick Carbon Steel Construction
Exterior Protection Polyurethane Enamel Paint
Coal Tar Coating for interior protection against corrosion
Removable ¾" spacing PVC Coalescing Media Packs
Covers with Gaskets.
Adjustable Weirs for Maximum Oil Separation
Level Controls
Emulsion Breaking System Options:
Materials of Construction – 304 Stainless Steel
Removable 304 Stainless Steel Coalescing Media Packs for High Temperature and Corrosive Chemicals
Solids Discharge Auger
Intake and Discharge Pump Packages
Vapor Tight Covers and Hatches
Controls and Control Panel
Intake Heat Conditioning
Freeze Protection
OSHA Approved Catwalks with Safety Railings, Stairway or Ladder.
Emulsion Breaking System Performance:
After Demulsification of the wastewater the EBS Removes Free Floating Oils and Settleable Solids
Removes 99% of Free-Floating Oils 20-micron sized hydrocarbons and larger
Produces effluent down to 10 mg/L or less.
Types of Oils Removed:
Motor oils, Fuels (vehicle/jet), Fuel oils, Hydraulic fluids, Immiscible machining oils, Lube oil, Transmission fluid, Bunker c, DNAPL, LNAPL, Vegetable-based oils, Crude oil, Air compressor lubricants and other Hydrocarbon based derivatives (BTEX etc.).
Applications:
Centralized Wastewater Treatment Facilities
Hazardous Waste Treatment
Refineries
Vehicle Wash Racks
Industrial Process Water
Groundwater Remediation
Steel Mills
Tank Farms
Petro-Chemical
Shipping Ballast and Bilge Water
Power Generation
Heat Treating