A water treatment filter press is a great solution for dewatering the sludges generated in many wastewater applications. Other technologies have minimum requirements for optimal solids dewatering and will not work unless there is a sufficient amount of feed available.
The filter press is engineered to deliver the best quality solids dewatering at the lowest operating and maintenance costs. Other technologies can be expensive, noisy, energy consumptive, and unreliable. The filter press works efficiently and effectively.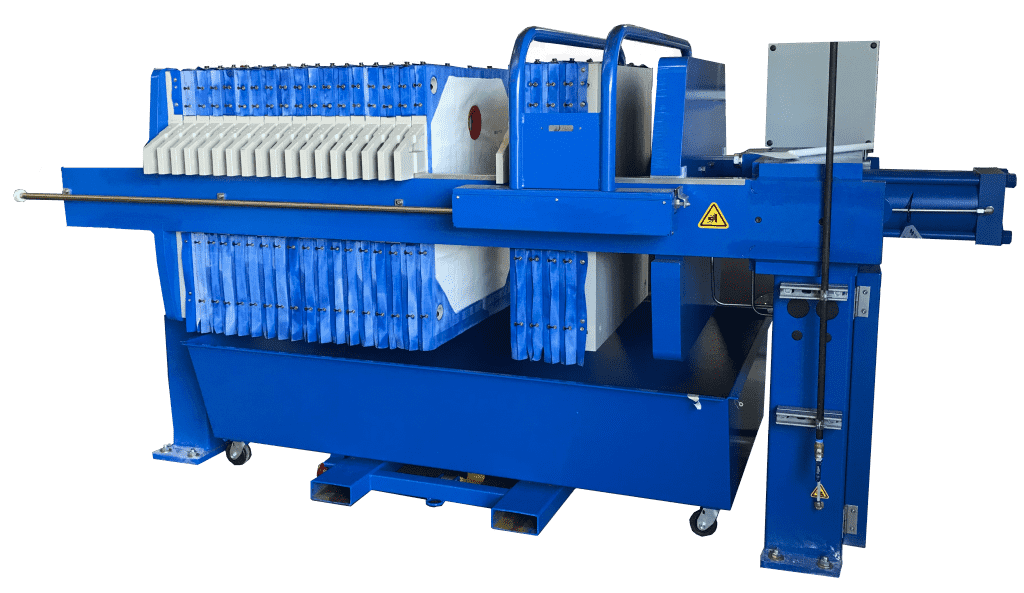 HOW DOES IT WORK
The filter press separates the liquids from the solids using pressure filtration. Each filter press is designed based on the volume and type of sludge slurry that needs to be dewatered. The operating principle is that the liquid sludge is pumped between the filter plates to distribute solids evenly during the fill cycle. Solids build up on the filter cloth, forming the filter cake. Filtrate exits the filter plates through the corner ports into the drain manifold, yielding filtered water. Once the chambers are full, the cycle is completed and the filter cakes are ready to be released. As the plates are shifted, the filter cake falls from each chamber into a cake hopper or drum below the press. A spatula can be used to scrape the cake from the cloths if needed.
ADVANTAGES OF THE RECESSED CHAMBER FILTER PRESS DESIGN
The primary advantages of a recessed chamber plate for water treatment include:
The ability to feed a large center hole versus a small opening in the corner of the filter plate
The larger hole in the center of the filter plate allows the chambers to fill faster and more evenly
The recessed chamber filter plate reduces the risk of clogging and causing plate damage due to unequal pressure.
This is important in applications with high feed solids.
Ellis Filter Presses come with the following standard equipment:
Available with 800 mm X 800 mm OR 1000 mm X 1000 mm with Polypropylene, Non-gasketed, recessed chambers
Frame Side Bar Design, ASTM A-36 Carbon Steel with 304 Stainless Steel Rail Caps
Air Operated Diaphragm (AOD) Pump
Semi-Automatic Plate Shifter
Control Cabinet
Installed with Non-Gasketed mono-/multifilament filter cloths
PVC Schedule 80 PVC/EPDM Manifold – Air Blow/Even Fill Fully Assembled with manual valve to provide even chamber filling and chamber blowdown. Includes Air Regulator.
One (1) Plate Spatula
Additional Filter Press Options:
Sludge Cake Hopper(s) – Forkliftable self-dumping filter cake discharge hopper(s) on casters to assist with filter cake disposal into sludge haul-off dumpster
Filter Press Platform to suspend sludge disposal container with guardrails and ladder or stairs
Filter Cake Chute to guide dewatered sludge cake into disposal container
Splash Curtain