The Ellis Inclined Plate Clarifier (IPC) membrane ultrafiltration water system offers a large settling surface area in a very small footprint. The Ellis IPC uses only 10% of the settling area for the separation of solids than traditional settling clarifiers. To maximize the settling surface area, the IPC uses a series of closely spaced plates installed at a specific angle. The driving force for this separation is gravity acting upon the entrained solids. The compact volume with a low clearance and footprint requirements saves on installation costs and makes the IPC easy to access and service.
HOW IT WORKS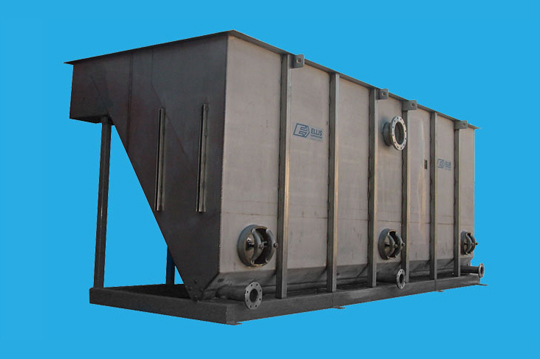 Chemically pretreated wastewater enters the stilling chamber removing kinetic energy. All solids begin a downward flow in the quiescent water. After flowing through the sludge chamber, the flow is forced upward through the plates. This is referred to as a counter current flow pattern.
As the flow rises between the plates, solids fall from suspension under the natural force of gravity. This minimizes energy requirements and allows for easy, clean separation. The heavy solids will settle onto plate and slide down the inclined surface to be collected in the sludge hopper. The IPC has minimal moving parts and wear components leading to direct operation and maintenance cost savings for the customer.
The effluent flows to the top of the plate area and decants over an adjustable weir. Solids can be intermittently discharged from the side of the sludge chamber using the optional auger system.
IPC Standard System
Carbon Steel Construction
Polyurethane enamel paint for exterior
Coal Tar Coating for interior
Removable Polypropylene plates
Adjustable Weirs
IPC Options
IPC Stainless Steel Construction
Removable Stainless Steel Plates
Pumping package, Inlet, Outlet, Sludge removal
Chemical Reaction Tanks (2) with Mixers
Flow Meter
Control Cabinet
pH Control/Monitoring System
Freeze Protection, Immersion Heater
Solids Removal Auger
Walkways with Guard Railings
Access Ladder or Stairway
Level Controls
Applications
Bulk Tanker Cleanout and Washing
Mining
Heavy Metal Removal
Meat Processing
Groundwater Remediation
Landfill Leachate
Paint Spray Booth Sludge
Mineral Processing
Pharmaceutical Processing
E-Coat Rinse Waters
Brew and Mash Filtering
Water Recycling for Stone Fabrication
Metal Working